.......The Janata Shikshana Sangha's, a pioneer in Education , had its humble
beginning way back in 1955 with the Sri Panchalingeswar Janata Gurukula High School
started by the Karnataka Education (KE Board) Board with a mere strength of 40
students. The Founder's late Sri V.P.Jevoor and Late Sri S.S.Sarvi was taken over the
Institution to provide middle School Eduction to rural students. The Institution is
handed over to late Sri. A.A. Renake, chairman and board of Management in
1972.Dynamic person and freedom fighter, social worker and educationist. The JSP
Sangha's grew from strength to strength and various institutions were started to cater
to the educational requirements of the people. Later the management decided to
establishment of Sri C.P.Bali Junior College 1982,The board of Management has taken
the bold step for opening of Sri Adivayya Kadakolmath Pre-Primary School in 1991.Sri
Renammatai yaligar kannada primary convent School in 1991,Sri Ajjappa Gadami Arts
and Commerce College in 1991 but later the J.O.C.Section is added to Junior college
with tailoring and embroidery course in 1983 . The coputer Section was open in
2001.The board of Management elect new Chairman Sri. A.P.Abbar in 2002.Later JSP
Sangha's establish the Bhimarayappa Fakirappa Yaligar college of Eduction (B.Ed) in
2004 Sri. Renuka Industrial Training Center(ITC) college was established in 2006 .
......The Ajjappa Gadami College is providing Higher Eduction to rural students .The
founding Principal Sri S.P.Bali Later in 1996 The well Experience and great Scholar Sri
M.P.Sobarad has taken a Charge of Principal Post .He had developed the college lot of
course and curricular Activates.
......An Educational Institution is providing Knowledge to rural students ,the Industrial
,business Knowledge ,developed leadership and personality development
programma's.
......The JSP Sangha's flowered, flourished and fostered new centers of learning.
Today, the JSP stands in the Ghandi nagara Munavalli.above sea level, along the
Gokak-Dharwad road . The educational development due to JSP has been enormous
that the adjoining area came to be known as extension area truly a tribute to
Knowledge.

The Campus:
......The JSP Campus is a sprawling one with idyllic surrounding and the education
institutions among them, envelopes an area of 10 acres. There are big playgrounds
designed to the needs of the students. The flora around, along with the huge buildings
present the passers-by with a beautiful sight. The atmosphere beckons any person to
adore the natural setting and incites the urge to pursue Education, no matter big or
small. Such is the ambience one finds here perfect for Learning.
......The JSP Campus is about 0.5 kms from Munavalli main bus stand &14 kms from
Savadatti and 15 kms yaragatti The sylvan surroundings are so beautiful that one is
infected by them and hates to leave the campus. Thus, the people come for a walk, a
light jog and exercise here, everyday. You can find people even in the evening taking a
stroll round the campus. One does not feel satisfied until he has visited the campus
once in a day. Such is the bonding JSP has created with the people.
Building

The proposed Ajjappa Gadami Arts and Commerce college Building .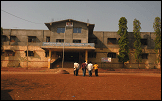 Class rooms
Well equipped Classroms 25' x 35' (Four in number)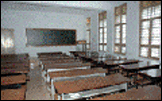 Geography Laboratory
Well equipped Science Laboratory 20' x 30' (One)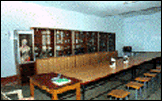 Computer Lab
Well equipped Computer Laboratory 25' x 40 (one)
Library
Well equipped library with a large number of books on 30' x 45' (one)